Communicate
Convert more and build long-lasting relationships with GreenRope's many features built to help you communicate with your leads and clients. From email marketing and social media to advanced marketing automation and more, all the tools you need to engage your contacts are right at your fingertips. It's now easier than ever to keep in touch and stay top-of-mind.
Track
​Track your emails, websites, campaigns, signups and more with our real-time tracking and analytics. Find out where your top conversions are coming from and compare total pageviews, time on pages, conversion values, and more all in a single, easy-to-understand view. Data is everything – use it! All of the metrics you want to track are stored right in your CRM.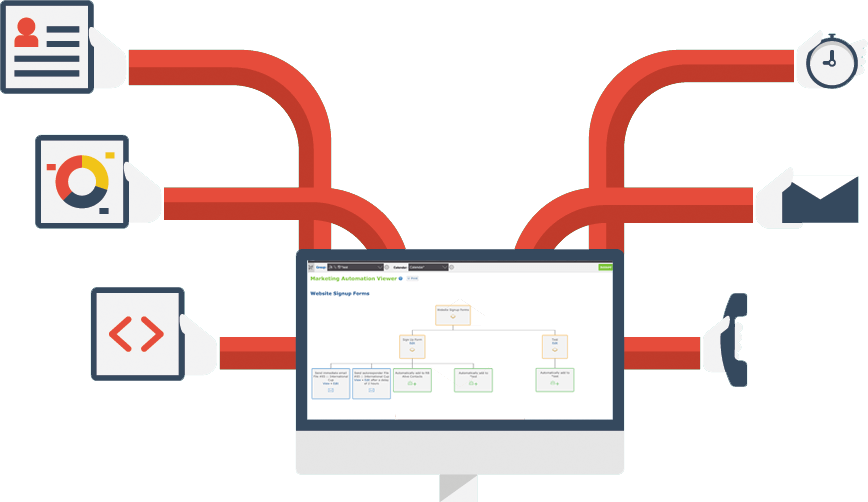 Automate
Marketing automation helps you setup processes allowing you to be more efficient. With our state of the art automation tools, increasing productivity, closing more deals, growing revenue, and saving time all become possibilities. Discover the many tools you have at your disposal and get started today.
Create
Make all of your communication and marketing materials stand out with GreenRope's drag-and-drop EasyBuilder for emails and landing pages. With our platform, you can easily create professional and responsive emails, signup forms, landing pages, websites, and much more. Sit back and watch the leads come in.
Learning
Offer courses, certifications, or training sessions with our learning management system. Create courses, invite people to take those courses, provide learning materials and track progress all from one dashboard. All progress is tracked within your CRM.
Integrations
Connect the apps you use every day. We want to make your life easier. GreenRope integrates with many apps to help you maximize productivity. Some of our integrations include Zapier, WordPress, Magento, RightSignature, Evernote, just to name a few. All integrations can be accessed right from within the platform.
Learn More About Our Integrations /a>
Shared Access
GreenRope empowers your team to collaborate like never before by not charging for additional users. Your entire team will have access to the information they need to get the job done. As the account owner, you can choose what level of access each of your shared access users receive, so each user will have a customized view and experience with the account.
Data Security
Keeping your business and your data secure is our top priority. At GreenRope, we have the security, stability, and disaster recovery plans so you can always feel safe and never have to worry about any internal or external threats. From utilizing maximum encrypted HTTPS for all web connections, to support for two-factor authentication and account owner approval for user data exports, your data is safeguarded in your personal fortress.